A Delivery Guy on Every Street Corner…Literally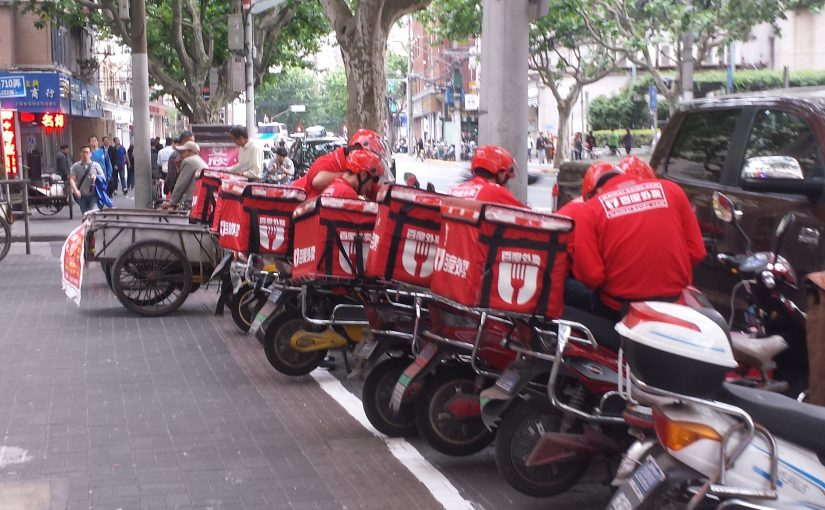 Building an internet company in China can be very different than that of the USA. Google began its advertising business in the US by using telephone and online sales to acquire business advertisers. When Baidu Mobile first started its search business in China, the best way to attract advertisers to its online search engine was to send representatives directly to small businesses door-to-door. With the massive amount of inexpensive labor this made sense in China.
This inexpensive labor pool in China has always been a competitive advantage for China and this is no more obvious in the massive logistics and delivery infrastructure that has been leveraged by Alibaba, Tao Bao and other online ecommerce platforms in China. Unlike the US which has Fedex, UPS and other large players, most deliveries in China are handled by small independent delivery people riding an electric scooter and under contract to Alibaba etc. Jack Ma (Founder of Alibaba) recently revealed that 2M delivery people already exist in China but that number will rise to 10M in the next 10 years. Already there are 30M packages being delivered today in China rising to 300M in next 10 years.
But it is not only online marketplace companies that are getting into the delivery business, Baidu (China's internet search giant) is now doing food delivery in dense urban areas.  Smaller O2O (offline to online businesses) are also innovating around delivery. A company that I recently visited in Shanghai called Z+ is taking it to a whole new level by leveraging neighborhood based entrepreneurs to do staple food delivery right from their own apartment.
The delivery world in the US is certainly being innovated through such players as Munchery, Postmates and even Uber but perhaps some of the real learnings can come from managing a large, diverse and independent delivery system such as what has already been done in China for the last 10 years. They certainly got it figured it out when I can order something and have it delivered in 10 minutes!
If you like this post, then please check out our other thoughts at www.impact10x.com/blog or email us at info@impact10x.com.